See on Scoop.it – Today's Modern Architects and Architecture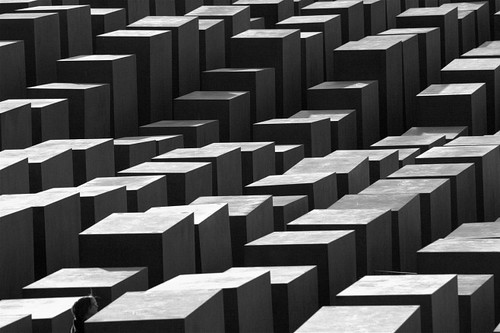 The quiet abstraction and stark physical presence of the memorial in Berlin memorializes past sufferings but also forces us to acknowledge the Holocaust's relevance today.
ParadigmGallery's insight:
Today I came across a quote that got my attemtion, "The architecture we remember is that which never consoles or comforts us."  Peter Eisenman, Architect…I then did my homework and discovered the astounding portfolio and the brilliant intellect and soul behind this memorial to the Holcaust in Berlin. I can only imagine the impact of viewing this in person and assume it would be a life altering experience.
This is an excerpt from the NY Times article..
A vast grid of 2,711 concrete pillars whose jostling forms seem to be sinking into the earth, it is able to convey the scope of the Holocaust's horrors without stooping to sentimentality – showing how abstraction can be the most powerful tool for conveying the complexities of human emotion.
Awesome and emotional read….worth it!
See on www.nytimes.com
Comments
comments